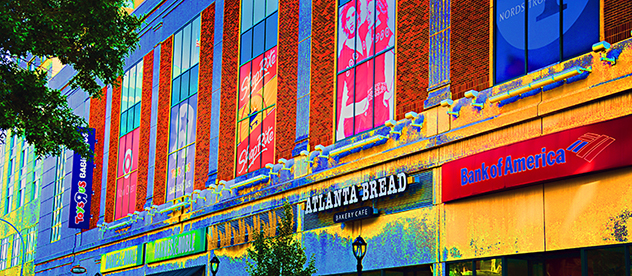 Welcome to WhitePlains.com
Welcome to the new WhitePlains.com! We have a fresh new format that will surely cater to your needs.
______________________________________________________
COUNCILWOMAN MILAGROS LECUONA ANNOUNCES MAYORAL CANDIDACY FOR WHITE PLAINS
White Plains, January 29, 2017— White Plains Common Councilwoman Milagros Lecuona officially announced her candidacy today  for Mayor of the City of White Plains, in what she vows will be a vigorous campaign.  Lecuona made the announcement outside of the Westchester County Democrats headquarters at 170 East Post Road, surrounded by vacant storefronts in the heart of business district.
Lecuona stated: "Today's political announcement should not surprise anyone in White Plains, based on what the current administration has been advocating for the last six years.  We reside in a very competitive regional environment where cities are struggling to attract dynamic business interests as well as new residents all while balancing quality of life issues.  However the ongoing lack of vision, process and leadership have placed White Plains on a dangerous path.  The time to change that path is now."
The current administration's lack of transparency is a major issue:  "Developers schedule meetings with city commissioners, but residents are not even able to access basic information.  Our citizens are purposely kept in the dark!"  City Commissioners have been instructed not to talk to specific Common Council members; the information provided is "filtered, manipulated, or delayed.  And as a result, our neighborhoods suffer."
Alan Himmelstein, a 27-year resident of White Plains, stated: "I am so happy to see that Milagros Lecuona is running for mayor.  She has shown tremendous dedication, integrity and knowledge on the Common Council.  I believe she will conduct city business openly and with a vision for the future based on sound urban planning."
Lecuona is an immigrant from Spain who moved her family to White Plains in 1987.  A trained architect and urban planner for the last 35 years, she has served on the White Plains Common Council for the past 9 years.  During her time in office, Lecuona has taken on powerful interests on behalf of the people of White Plains.  Entering public service was a natural progression given her lifelong community involvement, for which she as received multiple recognitions and awards.
______________________________________________________________________
Governor Cuomo and Assemblyman Buchwald Help New York Families Save for College
With the financing of higher education becoming an even bigger challenge for Americans, Governor Andrew Cuomo has signed into law legislation that provides an innovative solution to help families save for college. The bill, A.9118, sponsored and introduced by Assemblyman David Buchwald (D-Westchester County), unanimously passed both the State Assembly and Senate earlier this year.  The new law allows New Yorkers to directly deposit their state tax refunds into a 529 College Savings Plan.
New York State residents have long been encouraged to save for higher education through the New York 529 College Savings Program. Savings in a 529 account can grow tax-free when used to pay for higher education expenses, including room and board, books and other supplies. And while New Yorkers could always deposit their state income tax refunds into their bank accounts, now they can directly send all or part of their refunds to their 529 college savings accounts. So, Buchwald's bill provides a more convenient way to save for higher education especially at tax refund time, when it is easier for many families to put money away for the future.
"Government should empower citizens, and that is all the more important when it comes to families saving for their children's college education," said Assemblyman Buchwald. "I want to thank Governor Cuomo for signing my bill into law and thank all of my legislative colleagues who voted for this bill.  New Yorkers now have a direct route every April to provide their loved ones improved access to higher education."
"Every parent of a college-bound student in New York State should take advantage of our 529 college savings plan," State Comptroller Thomas P. DiNapoli said.  "Saving early is the best way to combat the rising costs of a college education and Assemblyman Buchwald's bill will make it even easier to do so."
"We applaud Governor Cuomo and the New York State Legislature for passing important legislation that will make the possibility of saving for college a reality for ALL children and their families" said Jennifer March, Executive Director of Citizens' Committee for Children. 'This new law will enable every New York family that files taxes to split their tax refund and deposit a portion into a 529 college savings account. Research clearly demonstrates how just a small amount of college savings can give a child a college-oriented identity and dramatically increase his or her chances of attending and completing college. In this competitive labor market, we know that we can never start too soon in providing our children with a clear path toward college and career. This law is a win-win for children, youth, families and all New Yorkers."
"On behalf of New York's working poor families, The Financial Clinic, wants to it extend sincere gratitude and congratulations to Governor Andrew Cuomo and the New York State Legislature, especially Assembly Member David Buchwald and State Senator Thomas Croci, for recognizing that New York's families, and especially its low-income families, need every opportunity to help save for their children to go to college" said Mae Warson Grote, Founder and Chief Executive Officer of the Financial Clinic. "Now 9 million New Yorkers will have an annual chance to build savings at tax time and thousands will use that opportunity to make college easier for themselves and their children. With the rising cost of education and a greater than ever emphasis placed on educational success in the labor market, Governor Cuomo has demonstrated his commitment to New York's families and the success of their children as well as building the financial security of working poor New Yorkers. Looking forward, The Financial Clinic is eager to support the New York Department of Taxation and Finance as it acts to implement and extend this critical opportunity to New York tax filers."
New York's 529 college savings program has been recognized as one of the best in the nation according to SavingForCollege.com in its 2015 and 2016 analyses of individual states' 529 investment plans.
Buchwald's bill, A.9118 had 48 co-sponsors in the State Assembly, both Democrats and Republicans. Senator Thomas Croci (R-Suffolk County) carried the bill in the State Senate and was instrumental in getting this bill passed in both houses.
===============================================
================================================
Governor Cuomo Signs Railroad Safety Legislation into Law
Governor Andrew Cuomo has put his signature on legislation he put forward with Assemblyman David Buchwald (D-Westchester County) and Senator Joseph Robach (R-Monroe County) to implement more stringent safety measures at grade-level railroad crossings. This law comes after the deadly Valhalla train crash in 2015 in which six individuals were killed after an SUV pulled onto the tracks at a Metro-North Railroad grade crossing.  The new law implements more joint inspections of signals at railroad crossings, aligns state requirements with federal regulations on railroad bridge inspections, and increases penalties on railroad companies that do not comply with the regulations and on drivers that commit railroad crossing violations.
"Too often, New Yorkers have experienced tragedies at grade-level railroad crossings. I want to thank Governor Cuomo for signing this legislation into law to provide greater safety, efficiency, and modernization at our railroad crossings," said Assemblyman David Buchwald. "This law and new safety measures are a result of cooperation between the State Legislature, the Governor, our municipal governments, and the New York State Department of Transportation."
"The safety of our riders and motorists depends upon drivers obeying effective and well maintained traffic signals and grade crossing warning systems" said Randolph Glucksman, Metro-North Railroad Commuter Council Chair.  "We thank Assemblyman David Buchwald for his efforts to ensure that traffic signals coordinated with grade crossing signals are in good working order and that laws requiring compliance with grade crossing signals are effectively enforced."
"I want to thank Governor Cuomo and Assemblyman Buchwald for implementing new railroad safety measures for Westchester and all of New York State" said Srinivasan Selvaraj, a resident of Chappaqua, New York. "My family had a scary incident involving the malfunction of the boom barrier on Metro North's Harlem line near the intersection of the Saw Mill River Parkway and Roaring Brook Road in Chappaqua. It is comforting to know that steps are being taken to put in place better monitoring of railroad crossings."
In 2014, over 250 deaths were related to railroad crossing collisions across the country.  Many New Yorkers use railroad crossings or rely on trains on a daily basis.  This law is a necessary part of ensuring the safety of commuter trains and drivers.
The new law goes fully into effect on December 1.
County and Village Officials Join with GDC to Celebrate Grand Opening of The Lofts on Saw Mill River, a 66-Unit Luxury Rental Complex in Hastings
Second GDC Rentals Development to Open in Less Than 4 Months 
HASTINGS-ON-HUDON, NY (September 2016) – Ginsburg Development Companies continues to expand its GDC Rentals brand in Westchester County with the grand opening of The Lofts on Saw Mill River, a $34.9-million luxury rental  development in the Village of Hastings-on-Hudson.
County and Village officials joined with GDC executives on September 26 for a ribbon-cutting ceremony at the new development located at 419 Saw Mill River Road (Route 9A). The Lofts on Saw Mill River features 66 loft-style rental apartments in three buildings. Two 3-story buildings each include 27 market-rate units and one 2-story building includes 12 affordable workforce-housing units. The 12 affordable units count towards the affordable units mandated by the County's affordable housing settlement with the federal government.
Monthly rentals for the market rate apartments range from $3,245 for a large one-bedroom unit (950 SF) to $4,995 for a large 3-bedroom unit (1,656 SF). The affordable units range from $874 for a studio to $1,484 for a three-bedroom unit. The application process for the affordable units closed in June when the  Westchester based Housing Action Council conducted a lottery to select qualified tenants.
"Today's grand opening of The Lofts on Saw Mill River completes a journey that began more than a decade ago when we first acquired this site. What was once a former industrial parking lot has now been transformed into a one-of-a-kind community of contemporary loft-style rental apartments as well as much-needed affordable workforce housing," said Martin Ginsburg, Principal of GDC. "We are particularly pleased to dedicate to the Village 1.8 acres of open space to become a beautiful park that includes a pedestrian bridge to the South County Trailway, which runs by our property," he added.
"In addition to creating 100 construction jobs, The Lofts at Saw Mill River is adding to the vitality of Westchester's economy with high quality rental apartments, including affordable units," said Westchester County Executive Robert P. Astorino. "Westchester County and its Industrial Development Agency are proud to be partnering with Ginsburg Development Companies on this important project."
GDC received financial incentives for the development from the Westchester County Industrial Development Agency (IDA). The project also received financial support from the County for land acquisition and infrastructure.
"Ginsburg's high-quality developments are always an asset to a community – and Hastings will benefit both from the addition of these new high-end rentals as well as the provision of a dozen units at affordable rates," said Hastings-on-Hudson Village Mayor Peter Swiderski.
The Lofts on Saw Mill River is GDC's second new luxury rental development to open in less than four months. In June, GDC opened Harbor Square, a 188-unit luxury rental development on the Ossining waterfront. Harbor Square is already more than 50 percent leased. GDC is nearing completion of River Tides at Greystone, a 330-unit luxury rental complex overlooking the Hudson River in Yonkers. River Tides at Greystone is scheduled to begin leasing in Spring 2017. Earlier this month, GDC broke ground on 1177@Greystone, a new 55-unit luxury rental apartment building located on Warburton Avenue in Yonkers, one block north of River Tides at Greystone.
"The demand of luxury rentals in the Westchester market continues to grow with millennials as well as empty-nesters looking to live in a community with resort-style amenities and services as well as easy access to mass transit. The level of high quality finishes and design featured in our apartments is unlike anything being offered in the region's rental market," said Mr. Ginsburg.
GDC will begin showing The Lofts to the general public this Saturday and Sunday, October 1st and 2nd at a Grand Opening Open House to be held between 12 noon and 4pm each day.
_________________________________________________________________________________________
COUNCIL APPROVES SETTLEMENT AGREEMENT FOR REDUCED ALTERNATIVE PLAN FOR FASNY CAMPUS
Vote Puts Lawsuit On Hold While Revised Plan Is Reviewed
WHITE PLAINS, NY (September 6, 2016) – The White Plains Common Council tonight approved a settlement agreement that brings to an end a costly legal battle between the French-American School of New York (FASNY) and the City. The Stipulation of Settlement, which would be Court Ordered, is the culmination of five and a half years of discussion, review, meetings, debate, and lawsuits. The vote was 4-3.
The terms of the proposed Stipulation of Settlement include that:
The Upper School (grades 6-12) will be built on the already developed portion of the site ("Parcel A") where the clubhouse and other facilities of the former Ridgeway Country Club now stand.
Hathaway Lane will remain open.
No environmentally sensitive features on the site will be impacted.
The Lower School (Nursery through 5th grade) is eliminated from the application reducing student population by 33 percent from 950 to 640, reducing building square footage by 35 per cent, and significantly reducing traffic by another 42 percent.
Under the proposed Stipulation of Settlement, the Common Council would agree that this plan presents a potentially reasonable alternative for resolving and settling the outstanding litigation. The Council would also agree to provide the Alternative Plan a diligent and fair review in compliance with all applicable laws and regulations, mutually agreed to milestones, Court-ordered oversight for the review process, and the staying of all litigation until the Alternative Plan is determined by the city under its normal public review procedures.
"We are gratified that the Common Council has approved the settlement agreement. Tonight's vote is long overdue and represents a win-win for the City and the FASNY community. All parties can now put aside costly litigation and concentrate on obtaining final approvals for a compromise school plan," said Andrea Colombel, Board Chairperson of FASNY. "We expect the judge to sign the agreement in the next few days which will give the Court authority to oversee the review process. We expect a timely and fair review and look forward to putting a shovel in the ground. FASNY is a wonderful school with a vibrant community which will contribute to the City of White Plains and its residents for many years to come," she added.
As a matter of good faith to resolve the dispute, FASNY has already recorded and created a 51-acre publically accessible Conservancy on part of its land with plans to create east-west and north-south pedestrian and bicycle paths for neighborhood residents, as previously proposed. Known as "Parcel D," the land has frontage on Bryant Avenue, North Street and Hathaway Lane. It has just become the largest private conservation easement in Westchester south of Interstate 287, and the first in the City of White Plains. The conservation easement assures that the property cannot be developed, and will ultimately be open to the public. The conservation easement, which is the largest in White Plains, will   include miles of bike/pedestrian trails safely connecting the neighborhood.
The reduction in conservation easement from the 78 acres offered by FASNY in the original plan reflects the 35 percent reduction in the size of the school buildings and the 33 percent reduction in the student population under the Alternative Plan.
"We are deeply appreciative for the continued and growing support we have received from thousands of residents and businesses across White Plains. We look forward to moving forward and putting this unfortunate delay behind us," Colombel said.
_______________________________________________________________________________
Voter Registration Deadline is October 19th
League of Women Voters of White Plains to host National Voter Registration Day Event 9/27
White Plains, New York – The League of Women Voters of White Plains today announced they would be participating in National Voter Registration Day (NVRD), a nationwide, nonpartisan effort to register thousands of voters this fall on Tuesday, September 27th. The League will be out in force and available to assist voters who want to register or update their registration if they have moved. October 19th is the deadline to register or update your registration in New York.
We will be at the following locations. Please see our website http://bit.ly2bDmW5h for details.
Westchester Community College Pace Law School
Berkeley College
White Plains Galleria Mall Manhattanville College
White Plains YMCA
We need helpers. To volunteer to register voters on NVRD, signup at LWVWP's website http://
bit.ly2bDmW5h. We look forward to seeing you at the tables making democracy work for all.
"This election is important, and every eligible American deserves the chance to weigh in," said Stephen Cohen, President of the League of Women Voters of White Plains. "Voter registration is the key to helping shape the future of our country. We want to make sure everybody who wants the opportunity to vote on Election Day has their registration up to date by October 19th."
Now in its fifth year, National Voter Registration Day has been a game-changing annual nonpar- tisan campaign to register hundreds of thousands of voters in communities and online. Embraced a host of celebrities, bipartisan elected officials and organizations, NVRD leverages the collec- tive impact of thousands of community partners, including hundreds of League of Women Voters groups, nationwide, every year.
_______________________________________________________________________________
AMERICAN AIRLINES TO LAUNCH NEW ROUTE FROM WESTCHESTER COUNTY AIRPORT
WHITE PLAINS, N.Y. — American Airlines will launch twice-daily non-stop service from Westchester County (HPN) to Miami (MIA) beginning Dec. 15, 2016. This new American Eagle service to Miami is in addition to daily flights from Westchester to Charlotte, Chicago, Philadelphia and Washington, D.C.
American serves 129 destinations in 40 countries from its Miami hub, providing customers ideal connections to Central and South America, the Caribbean and Mexico.
Customers can begin booking travel on this new route at aa.com.
| | | | | | |
| --- | --- | --- | --- | --- | --- |
| Departure City | Arrival City | Departure Time | Arrival Time | Aircraft Type | Frequency |
| HPN | MIA | 7:00 a.m. | 10:10 a.m. | E-175 | Daily |
| HPN | MIA | 1:59 p.m. | 5:09 p.m. | E-175 | Daily |
| MIA | HPN | 9:55 a.m. | 1:05 p.m. | E-175 | Daily |
| MIA | HPN | 8:20 p.m. | 11:30 p.m. | E-175 | Daily |
The 76-seat Embraer E-175, operated by Republic Airlines, features a two-class configuration with 12 First Class seats and 64 Main Cabin seats.
About American Airlines Group
American Airlines and American Eagle offer an average of nearly 6,700 flights per day to nearly 350 destinations in more than 50 countries. American has hubs in Charlotte, Chicago, Dallas/Fort Worth, Los Angeles, Miami, New York, Philadelphia, Phoenix, and Washington, D.C. American is a founding member of the oneworld alliance, whose members serve more than 1,000 destinations with about 14,250 daily flights to over 150 countries. Shares of American Airlines Group Inc. trade on Nasdaq under the ticker symbol AAL. In 2015, its stock joined the S&P 500 index. Connect with American on Twitter @AmericanAir and at Facebook.com/AmericanAirlines.
_______________________________________________________________________
Senator Bernie Sanders could not handle the Presidency
By James C. Benerofe, Editor Suburban Street News
Senator Bernie Sanders biggest problem is his age. The mainstream media totally ignores this issue. Our last two presidents have been young. The job is exhausting. Presidents do not get a lot of sleep.
The next problem that Sanders has is that he is a socialist.   America was not built on socialism or for that matter ideology. America was built on practicality and capitalism.   Sanders does not like the stock market or big business. There are clearly things that need to be done to improve the stock market activities of
large investors. The biggest problem with the stock market is an uneducated naïve public. A large portion of the population does not understand how to invest in stocks. The solution to this problem is education. Start teaching
investing in stocks in the 5th grade. Also, at the same age, start teaching money, banking, and how credit and credit cards work.
Sanders may not like big business or the stock market but he can't ignore them. Big business and the stock market provide thousands of jobs. CEO's make extraordinary salaries.   No chief executives is worth more than about $5,000,000 a year.   Anything over and above is made with the assistance
of a sometimes very huge staff. Some executives have compensation packages exceeding $100,000,000. That needs to be curtailed.
Sanders wants free tuition for college students. That's not practical or realistic.
If you want to really help college students—every political party should support this—cut the interest rate on student loans to 2%.
There are too many kids going to college, we need more trade schools. Everybody does not have to be a college graduate.
I would like to know a lot more about Bernie Sanders and the other candidates.
What countries have they travelled to? Do they speak any foreign languages?
Have their travels been strictly for official business or have they travelled to foreign countries for personal reasons (pleasure, vacation, visit relatives etc) ?
Do they have hobbies? What kind of exercising do they do? What kind of books do they read? What is there level of education?
In the passed 20 years or so of Senator Sanders political career what legislation has he introduced and gotten made into law. What has he done and why didn't we hear about him until he decided to be a Presidential Candidate?
I do not think that Senator Bernie sanders could handle the Presidency. He clearly has some interesting ideas but really has no plan. He gives the impression that he is unwilling to compromise, a serious flaw for a president.
He should step aside.
(A little bit about me:   I am about four months older than Bernie Sanders.
I swim a half mile a day between 150 and 200 days per year. I started out managing family owned residential real estate. In 1976, I started a community newspaper in White Plains, NY which I published until 1995. I've been married
for more than 40 years(only once). I have four grown children and five grand children. I do not want to be President, I do not think I could handle the stress or the lack of sleep and I am too old.
________________________________________________________________________
ASTORINO UNVEILS $9.3 MILLION UPGRADE TO WESTCHESTER POLICE ACADEMY
Capital project includes major renovations and state-of the art crime lab
County Executive Robert P. Astorino today unveiled the newly renovated Westchester County Police Academy following a $9.3 million overhaul to upgrade training facilities and create a new state-of-the-art forensic crime lab.
"This capital project is about much more than bricks and mortar," Astorino said. "It is about ensuring that police recruits and veteran officers can receive the best training possible for decades to come. It is about ensuring that our crime lab has the sophisticated tools and technology to meet the evolving demands of modern-day policing. It is about ensuring we are doing all we can to keep our people safe."
Astorino, who proposed the capital project in 2014, was joined at the ceremony by Public Safety Commissioner George N. Longworth and chiefs and commissioners from multiple departments in the county.
Longworth noted that the academy is used by all police departments in Westchester to train their recruits to become police officers. Veteran officers return for lectures, seminars, supervisor school and other significant training throughout their careers. The county police crime lab is also utilized by all law enforcement in Westchester to process evidence and assist with criminal investigation and prosecution, he said.
"This capital project is an investment that pays dividends to every city, town and village police department in Westchester along with the county police," Longworth said.
The Westchester County Police Academy, located at 2 Dana Road in Valhalla, was built in 1986. The building was shared by the New York National Guard and the Westchester County Department of Public Safety until the Guard vacated in 2011.
Under the recent capital project, the roof, boiler and windows at the 50,000-square foot structure were replaced. The HVAC, lighting, fire alarm and sprinkler systems were upgraded and made more energy-efficient.
To enhance instruction and training, upgrades were made to the Police Academy classrooms, computer room and drill floor. Sophisticated audio-visual equipment was obtained for use by instructors to enhance learning and training. Classrooms 2 and 3 can now be opened up into a single, large room, which will enable the academy to host larger-scale lectures or training than previously.
"Sometimes we had to turn people away because a class was filled to capacity," Longworth said. "Now we have the means to accommodate everyone when that occurs."
In addition, an interactive training area was created off the drill floor to enhance training that recruits and tactical teams receive. The hallway-like setting enables scenario-based training for making entry into rooms or buildings and handling crisis-intervention situations and active-shooter incidents.  An outdoor interactive training area and obstacle course is also being created on the academy grounds to improve physical and tactical training.
The county police Forensic Investigation Unit, which operates the crime lab, was relocated from police headquarters in Hawthorne to the academy building. The expanded space will permit the crime lab to meet the evolving and rigorous standards required by its accrediting agency – The American Society of Crime Laboratory Directors/Laboratory Accreditation Board.
"Westchester County has always been a leader in utilizing forensic investigation to solve crime and hold criminals accountable," Astorino said. "The new crime lab ensures that we can keep that commitment well into the future."
The crime lab is the only one in New York State to be ASCLAD-accredited in the following five disciplines:
Firearms (Ballistics)
Crime Scene Investigation
Latent Print Comparison
Latent Print Processing
Digital Evidence/Computer Forensics.
___________________________