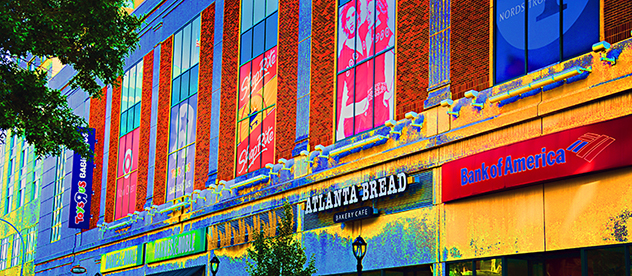 Welcome to WhitePlains.com
________________________________________________
Former White Plains Mayor, Alfred Del Vecchio, Dead at 95
Born in 1923, Al Del Vecchio was the longest serving mayor. He served 4 terms, from 1976 to 1993.
_______________________________________________

Westchester County IDA Approves Resolution of Intent
to Provide Financial Incentives for $203 Million Mixed-Use Development in Downtown White Plains 
440 Hamilton Avenue Project Would Feature 468 Apartments and Retail Space
WHITE PLAINS, NY (September 2018) – The Westchester County Industrial Development Agency (IDA) approved on September 27 a resolution of intent to provide financial incentives for a $203 million mixed-use residential development located at 440 Hamilton Avenue in downtown White Plains.
The development involves the adaptive reuse of a 12-story office building formerly occupied by AT&T at 440 Hamilton Avenue to allow for construction of 255 apartment units and 2,420 square feet of commercial retail space for a green grocer. The plan also calls for developing an adjacent surface parking lot on Barker Avenue with a tiered 6- and 7-story apartment building with 213 units together with parking for the project's residents and associated retail space. Six percent of the units will be affordable at 60% of Westchester County Area Median Income (AMI). Market rate monthly rents are projected to be $2,000-$2,300 for a studio, $2,400-$2,600 for a 1-bedroom unit and $2,600-$3,000 for a 2-bedroom unit. The project is located a short walk to the White Plains Metro-North train station.
Estimated IDA benefits include $3,335,400 in sales tax exemption and $1,685,630 in mortgage recording tax exemption for a total tax abatement of $5,021,030. The development is expected to create 659 construction jobs and 31 permanent jobs over a period of 24-28 months. The developer is Rose Associates of New York City.
440 Hamilton Avenue will incorporate green building technologies including LED lighting throughout, electric car charging stations, bicycle storage room, green cleaning practices, low-flow kitchen and bathroom features, Energy Star rated appliances and a building envelope that exceeds NYS Energy Code.
"This project is an excellent example of the type of innovative adaptive reuse development that the IDA is interested in providing financial incentives. The IDA is focused on making the county more appealing to new young talent. Updating commercial properties such as 440 Hamilton Avenue with new housing that is easily accessible to Metro-North train service is an important part of that focus," said Bridget Gibbons, Deputy Director of the Westchester County Office of Economic Development.
_______________________________
What's the Buzz with Honeybees?
Greenburgh Nature Center  
Wednesday, July 11, 2018 at 7:00pm
Details:  Beekeeper and Director of Education at Greenburgh Nature Center,Greg Wechgelaer, will present the basics of bees. Why are honey bees critical players in our lives and the global economy? Get close to actual honey bees using the GNC observation hive and meet some of the resident pollinators out in the meadow. Enjoy a honey tasting direct from the hives on the property.  Those inspired to pursue backyard beekeeping are encouraged to stay, have delicious refreshment and learn how!
Co-sponsored by the GNC. Refreshments by GNC at 7:00, program starts at 7:30.
______________________________
BIKE SHARE INTRODUCED IN WHITE PLAINS
In June 2018 the City of White Plains introduced bike share.  Dockless bike share is easy to use and is an affordable and green transportation option. The City's ordinance created a one-year pilot program and authorized the City to establish a permit process through which dockless bike share operators can operate within the city. The ordinance includes detailed operating standards as well as standards for the bikes themselves. The operators will be responsible for maintaining their fleet of bikes and for "rebalancing" the bikes around the city on a regular basis.
==============================================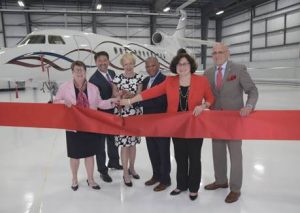 Million Air Celebrates Grand Opening of New Hangar at Westchester Airport 
State-of-the-Art Facility is Part of an $80 Million Investment
by Million Air in its 26-Acre Corporate Aviation Complex
WEST HARRISON, NY (May 2, 2018) – County and local officials today joined with executives from Million Air to celebrate the grand opening of Million Air's new state-of-the-art hangar at its corporate aviation complex at Westchester County Airport.  The 52,000-square-foot hangar is part of Million Air's $80 million expansion and upgrade at the airport.
The two-story hangar features 28-foot height doors capable of housing a Gulfstream 650, which is Gulfstream's largest business jet. Floors are heated with a high-tech radiant heat system that allows temperatures to be maintained for aircraft and pilots. The new hangar also includes eight customizable offices with storage space. With the completion of the new hangar, Million Air's complex now has 84,000 square feet of hangar space and 7.25 acres of ramp space.
 "The growth and development of our Million Air network and brand has come as a result of strong dedication from all levels within the organization," said Roger Woolsey, CEO of Million Air. "As our employees continue to create powerful first impressions at the Westchester County Airport, we are reinvesting in our facilities to create more jobs and better service our customers.  This is a win-win for our team and the Westchester County community."
Construction is currently under way on a new 18,000-square-foot terminal. Located adjacent to the new hangar, the two-story Adirondack-styled terminal is luxuriously designed with a resort-style ambiance including elegant seating areas, wood and rock features, stone framed dual fireplaces and wood beam ceilings. The new terminal will feature conference rooms, pilot lounge with sleep rooms, barista staffed grand coffee bar, climate controlled indoor valet area and additional parking. The new terminal is expected be completed by the end of this year.
 Westchester County Director of Operations Joan McDonald said: "Each day our administration is looking for opportunities to partner with businesses in Westchester County. We are proud of what we as a County have to offer both new and existing companies looking to make Westchester their home. Million Air's new hangar at Westchester County Airport is a great example of what we can accomplish together."
"Demand has been on the rise with a steady flow of aircraft coming in to the Westchester County Airport. The aviation industry has improved with the strengthened economy. It's great to see our region experiencing an increase in new and repurposed construction projects that bring new jobs and new residents to our area.  The airport has certainly facilitated the growth we are experiencing and I extend my sincere congratulations to Million Air and to all who participated in this wonderful project," said Harrison Town Mayor/Supervisor Ron Belmont
In May 2016, the Westchester County Board of Legislators approved a 30-year lease with Million Air, granting improvements of the company's Fixed Base Operation facilities on the 26-acre property at Westchester County Airport. In October 2016, the Westchester County Industrial Development Agency (IDA) approved issuing tax-exempt bonds for Million Air, which lowered the project's financing costs.
---
Local Student Named New York National Geographic State Bee Semifinalist by National Geographic Society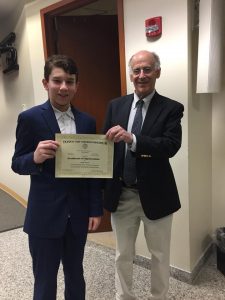 7th Grader Jeremy Morton from Greenburgh's Woodland Middle School has been notified by the National Geographic Society that he is one of the semifinalists eligible to compete in the 2018 New York State/National Geographic State Bee. The contest will be held in Albany, NY on Friday, April 6, 2018.
This is the second level of the National Geographic Bee competition, which is now in its 30th year. School Bees were held in schools with fourth- through eighth-grade students throughout the state to determine each school champion. School champions then took a qualifying test, which they submitted to the National Geographic Society. The National Geographic Society has invited up to 100 of the top-scoring students in each of the 50 states, the District of Columbia, Department of Defense Dependents Schools and U.S. territories to compete in the State Bees.
To celebrate the 30th annual National Geographic Bee, the cash prize for the top three students in each state has doubled. Each state champion will receive $200, the National Geographic Visual Atlas of the World, 2nd Edition and a trip to Washington, D.C., to represent their state in the National Geographic Bee Championship to be held at National Geographic Society headquarters, May 20-23, 2018. Students that come in second place will receive $150 and those that come in third will receive $100. The first-place national champion will receive a $50,000 college scholarship, a lifetime membership in the Society, including a subscription to National Geographic magazine, and an all-expenses-paid Lindblad expedition to the Galápagos Islands aboard the new National Geographic Endeavour ll. Travel for the trip is provided by Lindblad Expeditions and National Geographic. Second- and third-place finishers will receive $25,000 and $10,000 college scholarships, respectively. Visit www.natgeobee.org for more information on the National Geographic Bee.
National Geographic will stream the final round of the National Geographic Bee Championship starting May 24, 2018, at www.natgeobee.org.
How would you fare as a National Geographic Bee contestant? At the school Bees this year, students had to answer questions like these:
The Appalachian Mountains run through which state—Georgia or Mississippi?
Georgia
The North Platte and South Platte Rivers meet in which state—New Mexico or Nebraska?
A. Nebraska
Which state straddles the Tropic of Cancer—Hawaii or Alaska?
A. Hawaii
Which form of mass production was used by Henry Ford to produce automobiles in large quantities in Detroit, Michigan—threshing machine or assembly line?
A. assembly line
What is the term for the physical location where a plant or animal lives—habitat or pattern?
habitat
Which country does not contain large areas of desert—Chad, Venezuela, or Iraq?
A. Venezuela
Public steam baths called hammams are part of the culture in cities such as Casablanca and Marrakech in which African country?
A. Morocco
The Delmarva Peninsula includes parts of Delaware, Virginia, and which other state?
A. Maryland
9. The easternmost part on the Horn of Africa is located in which country?
Angkor Wat, built as a tribute to Hinduism, is located in which Southeast Asian country where Buddhism now predominates?
A. Cambodia
ABOUT THE NATIONAL GEOGRAPHIC SOCIETY
The National Geographic Society is a leading nonprofit that invests in bold people and transformative ideas in the fields of exploration, scientific research, storytelling and education. The Society aspires to create a community of change, advancing key insights about the planet and probing some of the most pressing scientific questions of our time, all while ensuring that the next generation is armed with geographic knowledge and global understanding. Its goal is measurable impact: furthering exploration and educating people around the world to inspire solutions for the greater good. For more information, visit www.nationalgeographic.org.
___________________________