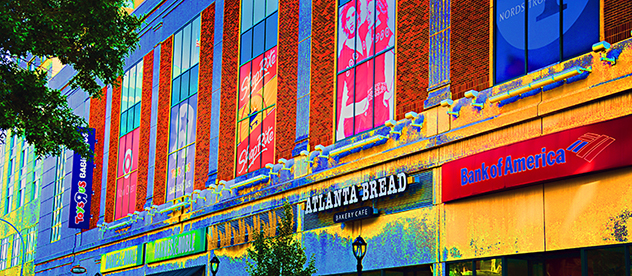 Welcome to WhitePlains.com
Welcome to the new WhitePlains.com! We have a fresh new format that will surely cater to your needs.
___________________
LIFE TIME ATHLETIC OPENS NATION'S PREMIER HEALTH, FITNESS AND SPA DESTINATION IN WESTCHESTER COUNTY
Life Time Chairman and CEO, Bahram Akradi, Leads "Ultimate Workout"
During Grand Opening Preview Celebration on Thursday, February 6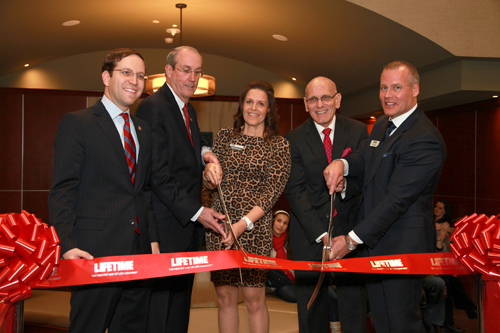 WHITE PLAINS, NY / CHANHASSEN, Minn.  (February 7, 2014) – Life Time – The Healthy Way of Life Companysm (NYSE:LTM) announced the opening of its first exquisite, comprehensive lifestyle, sports, professional fitness, family recreation, and spa resort in Westchester County. Located at One Westchester Park Drive in Harrison (formerly 1 Gannett Drive), Life Time Athletic Westchester represents the company's second location in New York and 109th destination in the United States and Canada.
A grand opening preview celebration occurred at 6:00 p.m. Thursday, February 6, with a ribbon-cutting ceremony involving Westchester's Deputy County Executive, Kevin J. Plunkett, Harrison Mayor, Ron Bellmont, and officials from the Town, County and New York State, along with Life Time executives. Life Time Athletic will officially open to all members on Saturday, February 8, at 4:00 AM.
"It is our distinct honor to become part of Westchester and we welcome the opportunity to serve the health, fitness, recreation and entertainment goals and objectives of the entire community," said Jeff Zwiefel, Life Time executive vice president and chief operating officer. "On behalf of our entire Life Time Athletic team, we are thrilled to open the doors to this incredible new destination, which is highlighted by best-in-class certified health, fitness and nutrition professionals, services and programs that cater to the health and fitness needs of the entire family. Our broad array of boutique-style, interest-driven programs ensure that our customers are able to achieve success by participating in activities that align with their areas of passion."
As part of the grand opening preview event festivities, Life Time Chairman and CEO, Bahram Akradi, lead his "Ultimate Workout" for members and guests while many observed in the club's Advanced Training Area. Other highlights throughout the evening included:
Kids activities and class demonstrations in the Kids Activity studio
LifePower Yoga and Pilates demonstrations
Group Fitness demonstrations featuring Edge Cycle spin class and Zumba
Family and Master Swim demonstrations
Metabolic Testing demonstrations
The impressive 206,000-square-foot Life Time Athletic destination features the best-in-class instructors and programs in beautifully appointed group fitness, cycle, Pilates and yoga studios, while also offering the finest, most up-to-date cardiovascular and resistance machines available anywhere. Certified personal trainers and nutrition coaches served members with personalized assessments, and fitness and nutrition programs designed to help them achieve and maintain healthy and active lifestyles. Life Time Athletic Westchester also features a tennis complex including 10 indoor climate-controlled tennis courts, executive tennis dressing rooms, a tennis pro shop, and a viewing lounge and bar. Furthermore, luxurious dressing rooms featuring an array of complimentary J.R. Watkins all-natural bath and body products provide the utmost in comfort and convenience.
Life Time Kids Academy, a new and unique membership program designed especially for kids from three months to 11 years, provides a full spectrum of enriching and engaging activities focused on Mind and Body, Arts and Culture, Fitness and Agility, and Life Skills.
Both Life Time Athletic Westchester members and non-members have access to LifeSpa; a full-service, lavish day spa offering the latest in massage and relaxation therapy, and a comprehensive range of body, hair, nail and skin care services and LifeCafe; an on-site, full-service, chef-driven cafe featuring a menu with an abundance of wholesome, organic ingredients free of artificial additives.
As a Diamond-level destination, members of Life Time Athletic Westchester have access to all Life Time Athletic and Life Time Fitness destinations across the country, along with exclusive social events, travel opportunities and more.  Life Time Athletic Westchesterwill be open seven days a week from 4:00 AM to Midnight beginning February 8 with complimentary towel and locker service, an initial 14-day money-back guarantee and no contracts.
For more information on Life Time Athletic Westchester, call 914-290-5100, visitlifetimefitness.com/westchester or facebook.com/LifeTimeAthleticWestchester.
————————————————–
Anne Ring Appointed Director of
Fund Development and Communications at
YMCA of Central & Northern Westchester
WHITE PLAINS, NEW YORK (February 12, 2014) – Anne Ring of Yorktown Heights, a longtime community leader in the county, was recently appointed Director of Fund Development and Communications at the YMCA of Central & Northern Westchester in White Plains.
"Anne is a familiar face in the community and is well-known for being a strategic leader who builds teams, develops relationships and drives results. Her experience and expertise will be a great benefit to our organization as we move forward into the future," Rubino said.
Ring's new appointment comes after Cynthia Rubino, newly appointed CEO/President of the YMCA of Central & Northern Westchester, announced plans for fundraising and future growth at the YMCA. With more than 27 years of leadership experience and expertise in management, marketing, fundraising and community relations, Rubino said Ring's expertise in community relations will help the Y's efforts.
"I am honored to join the YMCA of Central & Northern Westchester team as Director of Fund Development and Communications. The YMCA is such a key resource in our community," Ring said. "I look forward to using my skills to help the YMCA in its mission to better youth development, healthy living and social responsibility in Westchester."
In her new position, Ring will be responsible for developing and implementing fundraising initiatives and overall development strategy for the organization. She will also provide the vision and direction for the YMCA's marketing and public relations communications initiatives, and will work with the CEO to develop a brand strategy and image campaign to advance the YMCA's overall mission and fundraising goals.
President of Heritage Communications, Ring provides advice to businesses and other organizations seeking help with product awareness, leadership positioning, marketing and overall visibility. She has developed marketing collateral material and community outreach programs for various groups, including The Daily Voice and the Hudson Valley Shakespeare Festival. She has also designed and facilitated fundraisers and other special events to help benefit organizations like Hope's Door and Hudson Valley Hospital Center.
Ring has chaired various fundraising luncheons and dinners for nonprofit organizations including Food Bank for Westchester and AHA Go Red for Women. Additionally, she has held the positions of Associate Publisher at the Daily Voice, Business Development Manager atWestchester Magazine, Associate Publisher at Trader Publications, and Adjunct Professor at Fordham University.
She received a Bachelor of Arts in English at Providence College and a Master of Arts in Public Communications at Fordham University and has been recognized by various organizations for community outreach efforts: a recipient of the Dominican Sisters Community Care Award, inductee of the Women's Hall of Fame at Immaculate Heart Academy, and recipient of the Women in Communications Matrix Award.
The YMCA of Central & Northern Westchester is a multi-faceted operation that is one of the largest providers of childcare services in the county with more than 500 children a day in afterschool programs serving seven school districts. YMCA branches provide day care, fitness and pool facilities, housing, summer camps, and fitness classes. Camp Combe located on 80 rustic acres in the town of Putnam Valley services over 550 children and teens each day during the summer months.
List Your Restaurant For FREE!
Attention all restaurant owners. Did you know you can list your restaurant for FREE on WhitePlains.com? It's easy.
Free Listing »