Events/Entertainment
Iona College Announces Plans for Restaurant, Market on North Avenue
SAGE Café Delivers on a Promise to Community
NEW ROCHELLE, N.Y. (January 26, 2017) – Demonstrating its continued support to the New Rochelle community and the ongoing revitalization of the North Avenue corridor, Iona College today announced plans for a community restaurant and market on North Avenue.
Called SAGE Café, the proposed restaurant and market will serve the needs for both Iona students and the broader community, and will be located in taxable commercial space on the ground floor of the newly built seven-story mixed-use facility located at 690 North Avenue — the former site of the Mirage Diner.
The announcement delivers on a commitment the College made when it purchased the Mirage Diner in 2014 and follows several significant North Avenue improvement efforts supported by the College, including North Avenue land acquisitions, roadway improvements and a storefront enhancement program.
"Iona College is excited to move forward on a commitment we made several years ago to provide the community with a casual, convenient, and contemporary dining destination," said senior vice president for finance and administration, Anne Marie Schettini-Lynch. "With the SAGE Café, we are not only delivering on our pledge, but complementing our other broad based efforts to beautify North Avenue, add to its commercial base and provide needed on-campus housing for our students."
The initial design of SAGE Café incorporates a 3,000-square-foot contemporary intercontinental-cuisine-influenced restaurant with a 2,000-square-foot market and bakery. The vision for the establishment is a relaxed atmosphere with a gourmet-style convenience market, a high-quality bakery, gourmet coffee station, juice bar and a "grab- 'n -go" area offering fresh food prepared by the Café. Because it will be located within commercial property, it will generate both property tax and sales tax dollars for the city.
Sage is known as the Mediterranean herb of wisdom. It literally translates to mean "wise one," a play on words that is appropriate for a college setting.
If approved through the city planning process, SAGE Café will be located on the ground floor of the College's new building, which is the latest show of campus improvements and beautification. Additional investments in North Avenue have been made by the College, such as providing funds to the City for roadway improvements on public property in the vicinity of the College, and providing financial assistance to property owners along North Avenue to improve the appearance of commercial storefronts.  Through the College's meal plan, more than $2 million in revenue is generated for the local participating vendors on North Avenue.
City officials, elected officials and college leaders have all recognized the impact the College has had in the New Rochelle community as the second largest employer in New Rochelle as well as the significance of the College's contributions to the improvements along the North Avenue corridor.
Iona's improvements come at a time when a recent study by a commission of independent colleges and universities shows that the College contributes as much as $258.5 million a year to the regional economy. The study, conducted on behalf of the Commission on Independent Colleges and Universities (CICU) by the Center for Governmental Research, concluded that in 2015 the College's spending translated into roughly $99.4 million in wages; was responsible for 1,850 local jobs and contributed $7.3 million in state income and sales tax revenues for state and local governments. Additionally, another $37 million is estimated to come from student and visitor spending.
The results showed that the impact of Iona College actually increased by $8 million from 2013 estimates by the same organizations. The economic impact is measured in Iona's direct purchases of goods and services, as well as the spending by its employees, students and visitors.  Further, last year students, faculty and staff of the College contributed more than 66,000 service hours to the region.
"Since its inception, Iona College has worked diligently to be a good and responsible neighbor to the people of New Rochelle and the surrounding communities," said Iona President Joseph Nyre, Ph.D. "We are pleased with the progress we have made in recent years for our student body and community as a whole, and we will continue to be a vital part of the community at large and the regional economy."
_________________________________________________________
2015 Equal Access to Justice Dinner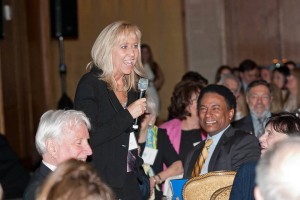 Photo: Courtney Rockett, Partner at Boies, Schiller & Flexner LLP and a member of Legal Services of the Hudson Valley's Board of Directors who chaired the event's Fund-a-Need program, with Lawrence Otis Graham (on the right), Special Counsel at Cuddy & Feder LLP, News 12 Contributor, and our 2015 Master of Ceremonies, at our dinner last night.
____________________________________
Cambria Hotel and Suites Opens
__________________________________________________________________
ArtsWestchester Elects New President and Adds Four New Members to its Board of Trustees
(ArtsWestchester) White Plains – After two years of service, Jacqueline Walker has
relinquished her role as President of the ArtsWestchester Board of Trustees. Walker, an active supporter
of the arts throughout her life, has shared with the arts community of Westchester, her artistic
knowledge and appreciation, as well as her generosity – and ArtsWestchester has benefitted greatly
from that dedication. Though no longer president, she will continue her involvement with the
organization as a board member and as Immediate Past President. Replacing her and assuming her
responsibilities in the coming year will be former Executive Vice President Froma Benerofe, also an avid
supporter of the arts.
Benerofe, whose private practice in clinical social work has helped countless individuals throughout the
county, currently resides in Purchase. No stranger to the arts, she has served on the boards of the Steffi
Nossen Dance in Education Fund and the Parsons School of Dance. Additionally, she has served on the
Board of ArtsWestchester for six years, two of them as Executive Vice President, and as chair of the
grants committee for five years . Benerofe received a Bachelor of Arts from Vassar College in 1963, a
Master's in Social Work from Columbia University School of Social Work, and certification in
interpersonal trauma from Fordham University in 1998.
ArtsWestchester's Board of Trustees consists of members from a variety of backgrounds and skill sets.
Four of this year's additional appointments are listed below.
Maria Ferreira – Maria Ferreira is the Suburban New York and Connecticut Community Banking
area president for Wells Fargo, the fourth largest U.S. bank. In this role she provides executive
leadership for retail and business banking operations, which includes 41 retail banking stores
and 394 employees. She is also a senior vice president for the company. A Yonkers native,
Maria served as Private Banking Leader, Retail Bank Director and, most recently, Area President
for Central New Jersey where she managed 43 retail stores and oversaw $6 billion in deposits
and loans. She is an active member in the White Plains community, and ArtsWestchester welcomes her
to its board.
Thomas Manisero – A commercial litigator by training, Tom Manisero has handled a wide
variety of contractual and business disputes during his 30-year career. He is a partner at Wilson
Elser and is a member of its Executive Committee. Manisero provides general counsel services
to numerous accounting firms and is spearheading a collaborative approach to client service that
will enhance the firm's ability to meet clients' needs in all areas. He takes a personal interest in his
clients, spending time with them to learn about their businesses and understand their legal
issues, drawing on his knowledge to provide practical solutions to achieve the best possible
outcomes. Additionally, Manisero serves as outside general counsel for one of the world's top
10 accounting networks. He will be a most welcome addition to the ArtsWestchester board.
Paola Morsiani – During the course of her career, Ms. Morsiani has interested audiences in
contemporary art by engaging them in exciting ways with the emerging artists of our time.
Recently named director of the Neuberger Museum of Art of Purchase College, Morsiani now
oversees an institution that has achieved international stature for its outstanding collection of
modern, contemporary and African art. A native of Venice, Italy, her experience includes
fundraising, grant writing, and educational outreach and marketing for local, national, and
international art audiences. Her expertise will be invaluable to the ArtsWestchester board.
Catherine Parker- After serving as Rye City Council Member since 2007, Catherine Parker was
elected to the Westchester County Legislature in November 2013, to represent the constituents
of the 7th Legislative District (Larchmont, Mamaroneck, Rye, Part of Harrison and Part of New
Rochelle). Whether as a volunteer, elected official or business owner, Catherine has worked
hard to make her community a better place for all residents. Catherine is a fourth-generation
Westchester resident and considers herself extraordinarily blessed to live in Westchester with
her husband David Walker and her two children, Julia and Aidan. We welcome Ms. Parker to
the ArtsWestchester board.
_______________________________________________________________
LIFE TIME ATHLETIC OPENS NATION'S PREMIER HEALTH, FITNESS AND
SPA DESTINATION IN WESTCHESTER COUNTY
Life Time Chairman and CEO, Bahram Akradi, Leads "Ultimate Workout"
During Grand Opening Preview Celebration.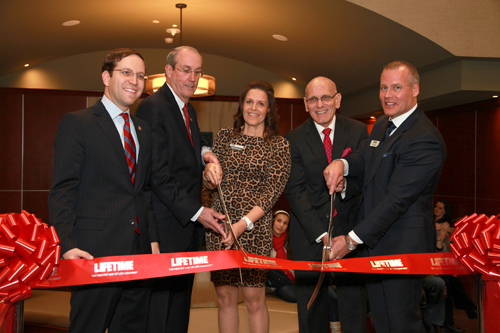 WHITE PLAINS, NY / CHANHASSEN, Minn.  (February 7, 2014) – Life Time – The Healthy Way of Life Companysm (NYSE:LTM) announced the opening of its first exquisite, comprehensive lifestyle, sports, professional fitness, family recreation, and spa resort in Westchester County. Located at One Westchester Park Drive in Harrison (formerly 1 Gannett Drive), Life Time Athletic Westchester represents the company's second location in New York and 109th destination in the United States and Canada.
A grand opening preview celebration occurred at 6:00 p.m. Thursday, February 6, with a ribbon-cutting ceremony involving Westchester's Deputy County Executive, Kevin J. Plunkett, Harrison Mayor, Ron Bellmont, and officials from the Town, County and New York State, along with Life Time executives. Life Time Athletic will officially open to all members on Saturday, February 8, at 4:00 AM.
"It is our distinct honor to become part of Westchester and we welcome the opportunity to serve the health, fitness, recreation and entertainment goals and objectives of the entire community," said Jeff Zwiefel, Life Time executive vice president and chief operating officer. "On behalf of our entire Life Time Athletic team, we are thrilled to open the doors to this incredible new destination, which is highlighted by best-in-class certified health, fitness and nutrition professionals, services and programs that cater to the health and fitness needs of the entire family. Our broad array of boutique-style, interest-driven programs ensure that our customers are able to achieve success by participating in activities that align with their areas of passion."
As part of the grand opening preview event festivities, Life Time Chairman and CEO, Bahram Akradi, lead his "Ultimate Workout" for members and guests while many observed in the club's Advanced Training Area. Other highlights throughout the evening included:
Kids activities and class demonstrations in the Kids Activity studio
LifePower Yoga and Pilates demonstrations
Group Fitness demonstrations featuring Edge Cycle spin class and Zumba
Family and Master Swim demonstrations
Metabolic Testing demonstrations
The impressive 206,000-square-foot Life Time Athletic destination features the best-in-class instructors and programs in beautifully appointed group fitness, cycle, Pilates and yoga studios, while also offering the finest, most up-to-date cardiovascular and resistance machines available anywhere. Certified personal trainers and nutrition coaches served members with personalized assessments, and fitness and nutrition programs designed to help them achieve and maintain healthy and active lifestyles. Life Time Athletic Westchester also features a tennis complex including 10 indoor climate-controlled tennis courts, executive tennis dressing rooms, a tennis pro shop, and a viewing lounge and bar. Furthermore, luxurious dressing rooms featuring an array of complimentary J.R. Watkins all-natural bath and body products provide the utmost in comfort and convenience.
Life Time Kids Academy, a new and unique membership program designed especially for kids from three months to 11 years, provides a full spectrum of enriching and engaging activities focused on Mind and Body, Arts and Culture, Fitness and Agility, and Life Skills.
Both Life Time Athletic Westchester members and non-members have access to LifeSpa; a full-service, lavish day spa offering the latest in massage and relaxation therapy, and a comprehensive range of body, hair, nail and skin care services and LifeCafe; an on-site, full-service, chef-driven cafe featuring a menu with an abundance of wholesome, organic ingredients free of artificial additives.
As a Diamond-level destination, members of Life Time Athletic Westchester have access to all Life Time Athletic and Life Time Fitness destinations across the country, along with exclusive social events, travel opportunities and more.  Life Time Athletic Westchesterwill be open seven days a week from 4:00 AM to Midnight beginning February 8 with complimentary towel and locker service, an initial 14-day money-back guarantee and no contracts.
For more information on Life Time Athletic Westchester, call 914-290-5100, visitlifetimefitness.com/westchester or facebook.com/LifeTimeAthleticWestchester.
_________________________________________________________________________
Anne Ring Appointed Director of Fund Development and Communications at YMCA of Central & Northern Westchester
 WHITE PLAINS, NEW YORK (February 12, 2014) – Anne Ring of Yorktown Heights, a longtime community leader in the county, was recently appointed Director of Fund Development and Communications at the YMCA of Central & Northern Westchester in White Plains.
"Anne is a familiar face in the community and is well-known for being a strategic leader who builds teams, develops relationships and drives results. Her experience and expertise will be a great benefit to our organization as we move forward into the future," Rubino said.
Ring's new appointment comes after Cynthia Rubino, newly appointed CEO/President of the YMCA of Central & Northern Westchester, announced plans for fundraising and future growth at the YMCA. With more than 27 years of leadership experience and expertise in management, marketing, fundraising and community relations, Rubino said Ring's expertise in community relations will help the Y's efforts.
"I am honored to join the YMCA of Central & Northern Westchester team as Director of Fund Development and Communications. The YMCA is such a key resource in our community," Ring said. "I look forward to using my skills to help the YMCA in its mission to better youth development, healthy living and social responsibility in Westchester."
In her new position, Ring will be responsible for developing and implementing fundraising initiatives and overall development strategy for the organization. She will also provide the vision and direction for the YMCA's marketing and public relations communications initiatives, and will work with the CEO to develop a brand strategy and image campaign to advance the YMCA's overall mission and fundraising goals.
President of Heritage Communications, Ring provides advice to businesses and other organizations seeking help with product awareness, leadership positioning, marketing and overall visibility. She has developed marketing collateral material and community outreach programs for various groups, including The Daily Voice and the Hudson Valley Shakespeare Festival. She has also designed and facilitated fundraisers and other special events to help benefit organizations like Hope's Door and Hudson Valley Hospital Center.
Ring has chaired various fundraising luncheons and dinners for nonprofit organizations including Food Bank for Westchester and AHA Go Red for Women. Additionally, she has held the positions of Associate Publisher at the Daily Voice, Business Development Manager atWestchester Magazine, Associate Publisher at Trader Publications, and Adjunct Professor at Fordham University.
She received a Bachelor of Arts in English at Providence College and a Master of Arts in Public Communications at Fordham University and has been recognized by various organizations for community outreach efforts: a recipient of the Dominican Sisters Community Care Award, inductee of the Women's Hall of Fame at Immaculate Heart Academy, and recipient of the Women in Communications Matrix Award.
The YMCA of Central & Northern Westchester is a multi-faceted operation that is one of the largest providers of childcare services in the county with more than 500 children a day in afterschool programs serving seven school districts. YMCA branches provide day care, fitness and pool facilities, housing, summer camps, and fitness classes. Camp Combe located on 80 rustic acres in the town of Putnam Valley services over 550 children and teens each day during the summer months.
———————————————————————————————————————-
ASTORINO'S LDC SUPPORTS PACE UNIVERSITY WITH $98 MILLION
IN LOW-COST FINANCING FOR UPGRADE PROJECT
Improvement plan will create 600 high-wage construction jobs, boost county's 'intellectual capital'
Photo left to right: Kevin J. Plunkett, Esq., Deputy County Executive and LDC vice chairman; Tom Brady, Pace University treasurer; Westchester County Executive Robert P. Astorino; Bill McGrath, Pace University senior vice president and chief operating officer for the Westchester campuses; Stephen J. Hunt, LDC chairman and Jim Coleman, LDC executive director in front of a rendering that depicts the future Pace Pleasantville campus after the $98 million renovation project is complete.
County Executive Robert P. Astorino today announced that the county's Local Development Corporation (LDC) approved a resolution that will give Pace University access to $98 million in tax-exempt bond financing for the renovation of its Pleasantville campus, the most extensive improvement plan in the 50-year history of the campus. The project, which consolidates all aspects of the school's Briarcliff campus to the Pleasantville campus, will help attract the brightest students from around the globe, revitalize the local economy and transform education in Westchester at no extra cost to taxpayers. This project will create 600 high-wage construction jobs and strive to source building materials from local businesses.
"Pace's renovation is exactly the kind of project the LDC was created to support," said Westchester County Executive Robert P. Astorino. "It's a win for everyone. At no cost to taxpayers, we're able to help one of our great educational institutions broaden its reach and do what it does best."
Pace is the county's largest university and contributes approximately $64 million to the local economy through direct and indirect spending.  The county's 13th largest employer, 75 percent of its employees and more than 20,000 of its alumni live in the county.
"This project will transform the Pace student experience. It will enable the University to continue to attract and retain excellent students and prepare them for successful careers in a highly competitive market," said Bill McGrath, senior vice president and chief operating officer for Pace Westchester. "We could not have done this as quickly and at such a low cost without the Westchester LDC."
The first stage of the project broke ground in the fall of 2013. Multiple components of the construction and renovation will happen concurrently and be completed by the end of 2016.
Before the LDC board voted to approve this signature project, McGrath shared the details of the plan:
·         Construction of two, four-story residence halls with a total of 760 beds and approximately 221,00 square feet.
·         The two buildings will incorporate "living learning" style communities with residential suites, faculty apartments, food service, classrooms and offices.
·         Renovation of the Kessel Student Center with a two- story addition totaling approximately 9,500 square-feet to accommodate a 200 dining-seat capacity and associated kitchen upgrades.
·         Upgrade and expansion of athletic facilities including a new 23,000 square-foot field house, a new softball field, new bleachers and re-surfaced fields.
·         Relocation and enhancement of the Environmental Center.
Special notes about the project:
·         Kirchhoff Consigli Construction Management, a Hudson Valley based firm, was selected to manage the construction of the environmental center complex, the residence halls and student center.
·         The Pleasantville Project will strive to use building materials or products that have been extracted as well as manufactured, within 500 miles of the project site, and closer where possible, thereby supporting the regional economy and reducing the environmental impacts resulting from transportation.
"Making an investment in our universities is making an investment in our future," said LDC Chairman Stephen J. Hunt. "We are preparing our young people today for the jobs of tomorrow. This is exactly what government should be doing: partnering with our institutions to provide what our businesses need most and that's intellectual capital."
The board also voted to give Kendal on the Hudson, a continuing care retirement community in Sleepy Hollow, $18 million in tax-exempt bond financing to support the renovation of its health center.
With the Pace Pleasantville and Kendal on the Hudson projects, the LDC will have leveraged $429 million in investments to Westchester non-profits helping six of the county's largest hospitals and universities reduce their financing costs, expand their facilities and create more than 1400 new jobs.  There is no financial risk to county taxpayers.
Astorino established the county LDC in April 2013 to fill a void that had existed since January 2008, when the state's Industrial Development Agencies, including Westchester's, lost the authority to issue bonds on behalf of non-profit organizations.
Created under the state's Not-For-Profit Corporation Law, the LDC consists of a board that reviews requests from non-profits seeking tax-free bonds and other financial incentives. The board consists of seven individuals, four of whom are appointed by the county executive, two from the Board of Legislators (one by the legislative majority conference, one by the legislative minority conference) and a representative from labor.
The LDC provides non-profits access to millions of dollars in low-cost, tax-exempt bonds for the financing of job-creating construction projects. There is no financial risk to the county. The obligation for repaying the debt rests solely with the non-profit organizations. The LDC acts as a conduit to enable the non-profits to receive tax exempt status.
Any non-profit organization looking to access the low-cost and tax-exempt project financing made available through the LDC should contact Jim Coleman, executive director of the LDC, at(914) 995-2963 or jcoleman@westchestergov.com.
_________________________________________________________________________________________________
Rivera, LaPenta to be Honored at
Annual Scholarship Gala
New Rochelle, NY (January 28, 2013)  — A Yankees legend and future Hall-of-Famer and a highly successful business executive whose contributions have helped transform Iona College will headline the College's annual awards dinner.
Mariano Rivera and his wife, Clara, and Robert LaPenta will each be honored at the 52nd Annual Scholarship Awards Gala on Friday, April 11, at the Waldorf Astoria in Manhattan.
The Riveras, whose son Mariano Rivera Jr. is a pitcher for the Iona College baseball team, will receive The Blessed Edmund Rice Humanitarian Award for their extensive commitment to community service, while LaPenta will be presented with Iona's Legacy Award, which recognizes an individual's lifetime accomplishments.
"We are proud to celebrate the accomplishments of these outstanding individuals each of whom embodies Iona College's mission of community service, scholarship and life-long learning," said Iona President Joseph E. Nyre. "They are living proof that the mission of Iona's founders remains a core value of our College and its community."
Past honorees represent a who's who of prominent and successful leaders including Francis Cardinal Spellman, New York Governor Malcolm Wilson, U.S. Senator Edward Kennedy, New York City Police Commissioner Ray Kelly and the New York Police Department, and the 15 Iona alumni lost in the September 11, 2001, attacks on the World Trade Center.
Rivera, a 13-time All Star and five-time World Series champion with the New York Yankees, and his wife started Refuge of Hope in their home in 2009. The organization quickly grew and the Riveras determined that they would organize a local church to provide programs to meet the needs of the less fortunate in the community.  Currently they are expanding the church, where Clara is pastor, in the former North Avenue Presbyterian Church near the Iona campus in New Rochelle – the church is listed on the National Register of Historic Places. The Riveras are creating a learning center for area children as well as facilities for academic assistance, sports programs and other after-school activities for children and teenagers. The Riveras are residents of Rye, N.Y.
The Blessed Edmund Rice Humanitarian award named to honor the founder of the Congregation of Christian Brothers recognizes those who by their activities and service to others have reinforced Iona's identity as a College founded in the tradition of the Congregation of Christian Brothers and American Catholic higher education.
LaPenta, a 1967 graduate of the College who received an honorary doctorate in 2000, will receive the Iona College Legacy Award for his lifetime achievements. He has held a variety of executive and senior level positions in private equity, technology and military communications companies. Until 2011, LaPenta was chairman, CEO and president of L-1 Identity Solutions, which he co-founded in June 2005. During his tenure, he built the firm into the largest biometric identity solution company in the world; Safran Morpho acquired the company for $1.6 billion. Earlier in his career, LaPenta had co-founded L-3 Communications and was a top executive at Loral Corporation for 24 years.
In addition to his business career, LaPenta owns and breeds thoroughbred horses at Whitehorse Stables, which he founded in 2001. His horses have won the Belmont Stakes, the Florida Derby twice and several other major graded stakes races. War Pass, one of LaPenta's most successful horses, was the winner of the 2007 Breeders Cup Juvenile and was voted the Eclipse Award as the champion two-year-old.  To date, his horses have earned in excess of $30 million in purses and sales.
In addition to graduating from Iona, LaPenta is a member of the College's Board of Trustees and has made significant contributions toward the construction of the LaPenta Student Union, the Ryan library, and the LaPenta-Lynch trading room floor in the School of Business.  He and his wife, Laurie, live in Westport, Conn.
Proceeds from the Scholarship Gala will support student scholarships. For more information, visit the dinner website online at IonaScholarshipGala.org
Don't see you restaurant listed here?
List Your Restaurant for FREE!