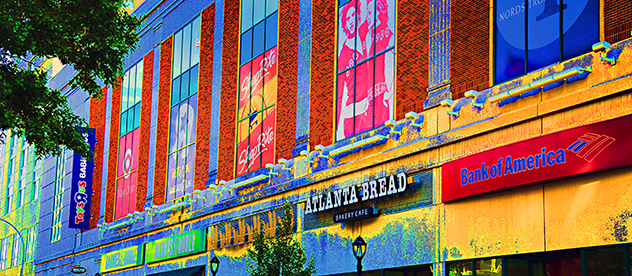 Welcome to WhitePlains.com
_____________________________________________
Simone Healthcare Development and Montefiore Break Ground for State-of-the-Art Pediatric Specialty Care Center in Harrison
HARRISON, NY (September 18, 2019) – Executives of Simone Development Companies and Montefiore Health System today joined with officials from the Town of Harrison and Westchester County to break ground on a development that will change the way pediatric specialty care is delivered throughout Westchester County.
Simone Healthcare Development, an affiliate of Simone Development Companies, is renovating a now vacant four-story office building at 104 Corporate Park Drive in Harrison into a 115,000-square-foot facility that will be leased to Montefiore.
"This is a very exciting day for Simone Healthcare Development as we begin our work to transform this building into a pediatric specialty care center for Montefiore Health System.  Over the past few years healthcare has become a prominent feature in the Westchester Avenue corridor.  We are proud to have Montefiore's expertise in pediatric care in our building," said Joseph Simone, President of Simone Development Companies.
"The pediatric specialty care center will be a first of its kind in the region, offering comprehensive ambulatory pediatric specialty care in one state-of the art building.  When a child needs treatment for a medical problem, that child will be seen by a team of world class specialists without having to travel long distances from doctor to doctor, and appointment to appointment," said Steven M. Safyer, MD CEO Montefiore Health System and Albert Einstein College of Medicine.  "When up and running, it will provide a comfort zone for children and families in the entire region.  We are proud again to be partnering with Simone Healthcare Development on this forward thinking program."
Just this year, the Children's Hospital at Montefiore (CHAM) again ranked in the U.S. News and World Report List of Best Children's Hospitals in the United States. CHAM's Gastroenterology & GI Surgery team earned the #1 spot in the New York Region, with other specialties such as orthopedics, neurology and urology also coming in among the top 50 in the nation.
"As the new Chair of Pediatrics for Montefiore and Albert Einstein College of Medicine, I am joining this health system at a historic moment" said Michael D. Cabana MD, M.P.H. "We are transforming the way healthcare is delivered to kids in Westchester. Through this first-class center, we will connect them to the finest pediatric care available across the region."
Some of the planned specialties to be offered in the new facility include: maternal fetal medicine, sports medicine, infusions, psychological services, a comprehensive imaging suite and laboratory services. There will also be pediatric urgent care, operated by Westmed Medical Group, a multispecialty outpatient group based in Westchester.
The renovated building will incorporate various green building technologies such as LED lighting, high efficiency HVAC, and high solar reflective index roofing material.
Parking will be provided in a new 200-space garage connected to the building. Construction is scheduled for completion in the fourth quarter of 2020.
"Montefiore's pediatric specialty care center will be a welcome addition to our thriving medical community. With the repurposing of the I-287 corridor, I am thrilled that Simone Healthcare Development seized the opportunity to create a vibrant and much-needed unique model of children's services. Montefiore has a strong history of leadership in the field of pediatrics, with the Children's Hospital at Montefiore being among the best in the region and the Town/Village of Harrison looks forward to working with the team as the project moves ahead," said Harrison Town Supervisor/Mayor Ron Belmont.
Westchester County Executive George Latimer said: "The redevelopment of 104 Corporate Park Drive is just one piece of the major transformation that is fully under way along the County's I-287 corridor. The state-of-the-art medical pavilion will provide a critical service to children during a time of need, taking the place of an office building that wasn't being used. Not only are we doing good by the services and jobs that will be created, we are doing good by the children this center will serve."
The Westchester County Industrial Development Agency (IDA) supports the project and anticipates it will create approximately 100 construction jobs and 250 permanent healthcare related jobs.
Perkins Eastman is the architect for the project.
The redevelopment of 104 Corporate Park Drive continues the major transformation underway along Westchester's I-287 corridor where vacant office parks are being repurposed into new uses including outpatient care facilities, rental housing, retail stores and a Life Time Fitness center. Construction is underway on a site adjacent to 104 Corporate Park Drive on a 121,000-square-foot Wegmans supermarket which his slated to open in spring of 2020.
__________________________________________
Visionary Developer and Business Leader Robert F. Weinberg Dies at 90 
As co-founder of the Robert Martin Company, Weinberg was a real estate development pioneer who transformed Westchester County over the past 60 years   
Robert F. Weinberg, a visionary commercial and residential developer who over six decades transformed the landscape and economy of Westchester County as co-founder of the Robert Martin Company, died of natural causes at his home in Manhattan on Sept. 3, 2019. He was 90.
Working side-by-side with his life-time business partner, the late Martin S. Berger, Weinberg and the Robert Martin Company were at the forefront of innovation and change in the real estate industry. Most notably, the company pioneered the development of more than six million square feet of office and industrial parks across Westchester and Fairfield counties, as well as over 3,000 apartments, condominiums and single-family homes throughout Westchester.
Weinberg's astute business sense consistently kept the company on the cutting edge of real estate trends. This enabled the firm to play a leading role in a wide array of major projects, including the creation of expansive suburban office and industrial parks, hotels, retail centers, as well as thousands of housing units. The company was particularly active in the cities of White Plains and Yonkers; the towns of Greenburgh and Mount Pleasant; and the villages of Tarrytown, Elmsford and Port Chester.
Combining their first names, Weinberg and Berger, who died in 2011, founded the Robert Martin Company in 1957. They began by modestly building five single-family homes in Ardsley.  They quickly expanded, building larger single-family home developments in Hartsdale, Yorktown, White Plains, and other communities.
In the late 1960s, however, they took a step that was to change the course of their business and in real ways, even the trajectory of economic development in Westchester. Acquiring a large tract of land on Route 9A in Greenburgh, Weinberg and Berger decided to build an office-warehouse park, the first of its kind in Westchester County.
The overwhelming success of the Cross Westchester Executive Park led to a series of transformative mixed-use office and commercial projects that the company developed, including the South Westchester Executive Park in Yonkers; the Mid Westchester Executive Park in Hawthorne; and the Stamford Executive Park in Stamford, CT.
The company was the first major developer to invest in the Urban Renewal of downtown White Plains. Its work there included the development of sixteen unique projects, culminating in the development of a full city block opposite the White Plains train station known as Westchester Financial Center.  Located at 50 Main Street, the project included two office towers, an apartment tower, and a common parking garage.
The company also led the way in the redevelopment of downtown Port Chester and constructed over 1,000 apartments in Elmsford and Greenburgh.
Today, the company's diverse portfolio includes over six million square feet of multi-family, office, retail and industrial properties as well as over 200 acres of developable land in Westchester, Connecticut and Florida.
Earlier this year, the company, led today by Tim Jones and Greg Berger, completed the acquisition of a 3.1 million square-foot office/flex portfolio, consisting mostly of properties originally developed by Robert Martin. The $487.5 million purchase from Mack-Cali Realty Corporation was the largest commercial real estate transaction in Westchester County history.
Weinberg was born in Manhattan on Sept. 20, 1928, to his mother Ray Greenbaum and father Alexander Weinberg. He grew up in New York City, although he and his parents spent time in Elmsford when he was recovering from scarlet fever as a young boy.
Weinberg earned a Bachelor of Science Degree in Mechanical Engineering from New York University, a Masters of Science Degree in Building Engineering & Construction from M.I.T. and a law degree from Brooklyn Law School.
A true visionary, Weinberg was particularly fond of a group he formed and chaired for more than 40 years, the Outreach Committee on Orderly Growth in Westchester. The group, which grew to include more than 40 members, meets for lunch seven times a year with Weinberg personally setting the agenda for "off-the-record" discussions of a wide range of issues pertinent to Westchester's future including transportation, housing, planning and zoning.
In addition to operating Robert Martin, he was also deeply involved in business, civic and philanthropic positions throughout the community. These included serving as a Director of the Mack-Cali Real Estate Investment Trust; Chairman of the Westchester Public Issues Institute; Director of the Westchester County Association; President of the Builders Institute of Westchester & Putnam Counties; Director of the publicly-traded Sequa Corporation; Commissioner of the Westchester County Utility Agency; Member of the Westchester County Advisory Committee on Housing Policy; Chairman of the UJA/Federation, Westchester Real Estate & Builder's Division; Trustee of the Federation of Jewish Philanthropies of New York; and Chairman of the Associated YM-YWHA's of Greater New York; Director of the City & Suburban Financial Corporation; Board Member of SUNY Purchase; Member of the Design Task Force for the TZB/Governor Mario M. Cuomo Bridge, and Co-founder of City and Suburban Savings Bank, among other involvements.
He maintained homes in White Plains, Manhattan and Palm Beach, FL. He was a long-time member of the Metropolis Country Club in Greenburgh and served on its Board of Directors, and also was a member of the Beach Point Club in Mamaroneck, the Harmonie Club and the Doubles Club in Manhattan, and the Palm Beach Country Club in Florida.
Mr. Weinberg was predeceased by his parents, his wife of 53 years, Marilyn, in 2012, and his daughter, Eileen W. Toulouse, in 2016. He is survived by his grandchildren Stacy Lynn Reilly and her husband Sam, and Scott Alexander Hesse and his wife Whitney, and his great grandchildren Jake Ethan Reilly, Cameron Michael Reilly and William Robert Hesse.
A memorial service will be held Friday, September 6, at 9:30 a.m. at the Frank E. Campbell Funeral Chapel, located at 1076 Madison Ave, New York, NY 10028 at 81st Street. Further arrangements are being made for the family to receive friends in both Westchester and New York City.
The family suggest, in lieu of flowers, that memorials be made in his memory to the Elizabeth Seton Pediatric Center in Yonkers, N.Y., or the Ranachqua Foundation, which supports Boy Scouts activities and college scholarships, in Bronx, N.Y.
___________________________________________________________________________
EDITORIAL:
By James C. Benerofe
The three leading candidates for president of the United States are all in their mid to late seventies.  Probably 90 percent of people in that age group are retired or planning to retire in the very near future.  They are not thinking of running a major corporation or even a small company—to say nothing of running the most powerful country in the entire world.
These three men–President Donald Trump, former Vice President Joe Biden, and United States Senator Bernie Sanders have all exhibited age related behavior during their campaigning. The national media seems to be ignoring this issue. These men are old and it is a serious issue.  The odds of them dying or developing an incapacitating illness during their term in office is very high.  Additionally, the normal aging process will also take its toll.
It's time for a dose of reality–old men or old women can't run a country of 329,000,000 people. If your over 65 running for President is just not a good option.
Footnote: I am 78 years old. I thought for a very long time before writing this editorial.  Many of my friends are in this age group.  I am very familiar with the problems they face. The willingness to choose candidates in this age range is absolutely crazy.
=============================================================
State-of-the-Art Tower Transforms Hospital Campus While Driving Economic Growth in Westchester County & White Plains
WHITE PLAINS, N.Y. (April 22, 2019)— White Plains Hospital (WPH) officially broke ground on a pivotal addition to its campus today, a 252,000 square-foot, 9-story outpatient center for advanced medicine and surgery, located at the corner of Maple and Longview Avenues, adjacent and connected to both the main Hospital and the Center for Cancer Care. The announcement was made today at an official groundbreaking held at the site.
The facility is one of the most significant additions to the Hospital's ongoing campus transformation, which has also included extensive campus modernization and renovation, such as the expanded Center for Cancer Care, completed in 2016, and the Hospital's new lobby and inpatient tower, completed in 2015. Since 2015, approximately 475,000 square feet have been renovated or added to the Hospital. The new project is estimated to cost approximately $272 million.
"White Plains Hospital continues to raise the bar on what it means to deliver the highest quality care in settings that are tailored to patients and their families," said Steven M. Safyer, MD, president and CEO, Montefiore Medicine. "This new location represents the very best Montefiore has to offer, passionate physicians, who are leaders in their fields with access to cutting-edge research from Albert Einstein College of Medicine, backed by the most modern technology available today."
The new advanced center will house new operating rooms, endoscopy suites, cutting-edge imaging, wound care delivered through hyperbaric chambers, and specialty physician practices including: orthopedics, spine, maternal fetal medicine, neurosurgery, and a Heart and Vascular Center.
"The new center is an exciting step in White Plains Hospital's transformation into the leading tertiary care hub for patients in Westchester County and beyond," explained Susan Fox, President and CEO of White Plains Hospital. "Inside, we will deliver a seamless patient experience and offer ease and convenience for accessing additional advanced ambulatory services and procedures." Ms. Fox continued, "The growth and vitality of White Plains Hospital has been a key driver in attracting top medical talent from major teaching and research hospitals in New York. Our medical staff has grown significantly, and we have added or expanded in key specialties such as oncology, interventional cardiology, neurosurgery, hepatobiliary surgery, electrophysiology and orthopedics."
The facility will also be a job creator for the County. In 2018, White Plains Hospital supported 6,264 jobs through a combination of direct employment (3,034) at the Hospital and its satellites, and indirect job creation (3,230) for supply and equipment vendors, contractors, laborers, and in local businesses that support the Hospital's workforce and visitors. The new project is expected to bring a 9% growth in new jobs over the four-year period. In the City of White Plains in 2018, WPH supported or sustained 2,605 jobs, accounting for 1 in every 36 jobs within the City, either directly or indirectly. By the end of construction, the impact on the City of White Plains is projected to be 2,869 jobs, of which 441 will be attributed to the new center.
Other Details:
Enhanced Patient Experience: The patient drop-off driveway is integrated into the building's design, allowing patients to essentially drive into the building for convenient drop off. Two bridges will connect the outpatient facility to the main Hospital. One bridge will be designated for staff and patients, and another for visitors. This unique layout keeps hospital activity and patients "behind the scenes," securing their privacy.
Sustainable Design and Construction: The project is designed in accordance with the principles of sustainable construction to support energy efficiency, water efficiency, light pollution reduction, and indoor air quality.
Smart Building Features: The building will feature a robust IT infrastructure designed to facilitate current and future medical technology, such as telemedicine. An intelligent infrastructure will support automatic building management, energy efficiency through technology and real-time data collection.
The new construction project is part of White Plains Hospital's ongoing modernization, which has included extensive campus renovations, the addition of satellite offices, and the acquisition of new specialty practices. With locations across Westchester County, White Plains Hospital's footprint now extends from New Rochelle to Yorktown.
_______________________________________________

Westchester County IDA Approves Resolution of Intent
to Provide Financial Incentives for $203 Million Mixed-Use Development in Downtown White Plains 
440 Hamilton Avenue Project Would Feature 468 Apartments and Retail Space
WHITE PLAINS, NY (September 2018) – The Westchester County Industrial Development Agency (IDA) approved on September 27 a resolution of intent to provide financial incentives for a $203 million mixed-use residential development located at 440 Hamilton Avenue in downtown White Plains.
The development involves the adaptive reuse of a 12-story office building formerly occupied by AT&T at 440 Hamilton Avenue to allow for construction of 255 apartment units and 2,420 square feet of commercial retail space for a green grocer. The plan also calls for developing an adjacent surface parking lot on Barker Avenue with a tiered 6- and 7-story apartment building with 213 units together with parking for the project's residents and associated retail space. Six percent of the units will be affordable at 60% of Westchester County Area Median Income (AMI). Market rate monthly rents are projected to be $2,000-$2,300 for a studio, $2,400-$2,600 for a 1-bedroom unit and $2,600-$3,000 for a 2-bedroom unit. The project is located a short walk to the White Plains Metro-North train station.
Estimated IDA benefits include $3,335,400 in sales tax exemption and $1,685,630 in mortgage recording tax exemption for a total tax abatement of $5,021,030. The development is expected to create 659 construction jobs and 31 permanent jobs over a period of 24-28 months. The developer is Rose Associates of New York City.
440 Hamilton Avenue will incorporate green building technologies including LED lighting throughout, electric car charging stations, bicycle storage room, green cleaning practices, low-flow kitchen and bathroom features, Energy Star rated appliances and a building envelope that exceeds NYS Energy Code.
"This project is an excellent example of the type of innovative adaptive reuse development that the IDA is interested in providing financial incentives. The IDA is focused on making the county more appealing to new young talent. Updating commercial properties such as 440 Hamilton Avenue with new housing that is easily accessible to Metro-North train service is an important part of that focus," said Bridget Gibbons, Deputy Director of the Westchester County Office of Economic Development.
_______________________________
What's the Buzz with Honeybees?
Greenburgh Nature Center  
Wednesday, July 11, 2018 at 7:00pm
Details:  Beekeeper and Director of Education at Greenburgh Nature Center,Greg Wechgelaer, will present the basics of bees. Why are honey bees critical players in our lives and the global economy? Get close to actual honey bees using the GNC observation hive and meet some of the resident pollinators out in the meadow. Enjoy a honey tasting direct from the hives on the property.  Those inspired to pursue backyard beekeeping are encouraged to stay, have delicious refreshment and learn how!
Co-sponsored by the GNC. Refreshments by GNC at 7:00, program starts at 7:30.
______________________________
BIKE SHARE INTRODUCED IN WHITE PLAINS
In June 2018 the City of White Plains introduced bike share.  Dockless bike share is easy to use and is an affordable and green transportation option. The City's ordinance created a one-year pilot program and authorized the City to establish a permit process through which dockless bike share operators can operate within the city. The ordinance includes detailed operating standards as well as standards for the bikes themselves. The operators will be responsible for maintaining their fleet of bikes and for "rebalancing" the bikes around the city on a regular basis.
==============================================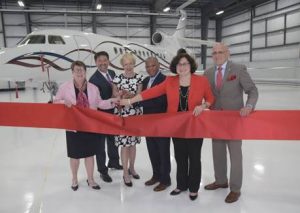 Million Air Celebrates Grand Opening of New Hangar at Westchester Airport 
State-of-the-Art Facility is Part of an $80 Million Investment
by Million Air in its 26-Acre Corporate Aviation Complex
WEST HARRISON, NY (May 2, 2018) – County and local officials today joined with executives from Million Air to celebrate the grand opening of Million Air's new state-of-the-art hangar at its corporate aviation complex at Westchester County Airport.  The 52,000-square-foot hangar is part of Million Air's $80 million expansion and upgrade at the airport.
The two-story hangar features 28-foot height doors capable of housing a Gulfstream 650, which is Gulfstream's largest business jet. Floors are heated with a high-tech radiant heat system that allows temperatures to be maintained for aircraft and pilots. The new hangar also includes eight customizable offices with storage space. With the completion of the new hangar, Million Air's complex now has 84,000 square feet of hangar space and 7.25 acres of ramp space.
 "The growth and development of our Million Air network and brand has come as a result of strong dedication from all levels within the organization," said Roger Woolsey, CEO of Million Air. "As our employees continue to create powerful first impressions at the Westchester County Airport, we are reinvesting in our facilities to create more jobs and better service our customers.  This is a win-win for our team and the Westchester County community."
Construction is currently under way on a new 18,000-square-foot terminal. Located adjacent to the new hangar, the two-story Adirondack-styled terminal is luxuriously designed with a resort-style ambiance including elegant seating areas, wood and rock features, stone framed dual fireplaces and wood beam ceilings. The new terminal will feature conference rooms, pilot lounge with sleep rooms, barista staffed grand coffee bar, climate controlled indoor valet area and additional parking. The new terminal is expected be completed by the end of this year.
 Westchester County Director of Operations Joan McDonald said: "Each day our administration is looking for opportunities to partner with businesses in Westchester County. We are proud of what we as a County have to offer both new and existing companies looking to make Westchester their home. Million Air's new hangar at Westchester County Airport is a great example of what we can accomplish together."
"Demand has been on the rise with a steady flow of aircraft coming in to the Westchester County Airport. The aviation industry has improved with the strengthened economy. It's great to see our region experiencing an increase in new and repurposed construction projects that bring new jobs and new residents to our area.  The airport has certainly facilitated the growth we are experiencing and I extend my sincere congratulations to Million Air and to all who participated in this wonderful project," said Harrison Town Mayor/Supervisor Ron Belmont
In May 2016, the Westchester County Board of Legislators approved a 30-year lease with Million Air, granting improvements of the company's Fixed Base Operation facilities on the 26-acre property at Westchester County Airport. In October 2016, the Westchester County Industrial Development Agency (IDA) approved issuing tax-exempt bonds for Million Air, which lowered the project's financing costs.
---
Local Student Named New York National Geographic State Bee Semifinalist by National Geographic Society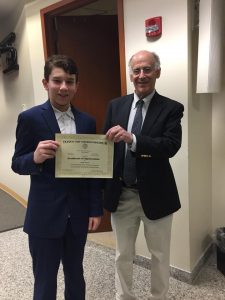 7th Grader Jeremy Morton from Greenburgh's Woodland Middle School has been notified by the National Geographic Society that he is one of the semifinalists eligible to compete in the 2018 New York State/National Geographic State Bee. The contest will be held in Albany, NY on Friday, April 6, 2018.
This is the second level of the National Geographic Bee competition, which is now in its 30th year. School Bees were held in schools with fourth- through eighth-grade students throughout the state to determine each school champion. School champions then took a qualifying test, which they submitted to the National Geographic Society. The National Geographic Society has invited up to 100 of the top-scoring students in each of the 50 states, the District of Columbia, Department of Defense Dependents Schools and U.S. territories to compete in the State Bees.
To celebrate the 30th annual National Geographic Bee, the cash prize for the top three students in each state has doubled. Each state champion will receive $200, the National Geographic Visual Atlas of the World, 2nd Edition and a trip to Washington, D.C., to represent their state in the National Geographic Bee Championship to be held at National Geographic Society headquarters, May 20-23, 2018. Students that come in second place will receive $150 and those that come in third will receive $100. The first-place national champion will receive a $50,000 college scholarship, a lifetime membership in the Society, including a subscription to National Geographic magazine, and an all-expenses-paid Lindblad expedition to the Galápagos Islands aboard the new National Geographic Endeavour ll. Travel for the trip is provided by Lindblad Expeditions and National Geographic. Second- and third-place finishers will receive $25,000 and $10,000 college scholarships, respectively. Visit www.natgeobee.org for more information on the National Geographic Bee.
National Geographic will stream the final round of the National Geographic Bee Championship starting May 24, 2018, at www.natgeobee.org.
How would you fare as a National Geographic Bee contestant? At the school Bees this year, students had to answer questions like these:
The Appalachian Mountains run through which state—Georgia or Mississippi?
Georgia
The North Platte and South Platte Rivers meet in which state—New Mexico or Nebraska?
A. Nebraska
Which state straddles the Tropic of Cancer—Hawaii or Alaska?
A. Hawaii
Which form of mass production was used by Henry Ford to produce automobiles in large quantities in Detroit, Michigan—threshing machine or assembly line?
A. assembly line
What is the term for the physical location where a plant or animal lives—habitat or pattern?
habitat
Which country does not contain large areas of desert—Chad, Venezuela, or Iraq?
A. Venezuela
Public steam baths called hammams are part of the culture in cities such as Casablanca and Marrakech in which African country?
A. Morocco
The Delmarva Peninsula includes parts of Delaware, Virginia, and which other state?
A. Maryland
9. The easternmost part on the Horn of Africa is located in which country?
Angkor Wat, built as a tribute to Hinduism, is located in which Southeast Asian country where Buddhism now predominates?
A. Cambodia
ABOUT THE NATIONAL GEOGRAPHIC SOCIETY
The National Geographic Society is a leading nonprofit that invests in bold people and transformative ideas in the fields of exploration, scientific research, storytelling and education. The Society aspires to create a community of change, advancing key insights about the planet and probing some of the most pressing scientific questions of our time, all while ensuring that the next generation is armed with geographic knowledge and global understanding. Its goal is measurable impact: furthering exploration and educating people around the world to inspire solutions for the greater good. For more information, visit www.nationalgeographic.org.
___________________________