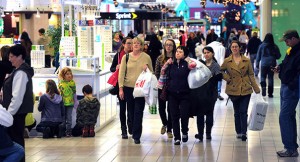 HOLIDAY SHOPPING TIPS FROM THE COUNTY DEPARTMENT OF CONSUMER PROTECTION
With the holiday shopping season here, the Westchester County Department of Consumer Protection wants to make your holiday shopping a little less stressful this year.
"No matter what the price of a gift purchase, it's important that people make informed purchases," said County Executive Robert P. Astorino. "Consumers can make life easier on themselves by remembering these holiday shopping tips, whether shopping in a brick and mortar store or using the Internet."
Comparison shop for the best price; find out all you can about an item before you purchase it.
Know the refund policy of the merchant you are buying from. In a retail store, the refund policy must be posted at the point of sale.
If an advertised sale item is not available, ask for a rain check; you're entitled to it.
When making purchases, keep your receipts together and organized. Quickly retrieve your credit cards after using them. If you pay by credit card, the credit card company can help you when you have a dispute with a merchant.
Find out the warranty information about a product before you purchase it. It varies from product to product. Sometimes warranties are offered by the merchant as well as the manufacturer and your credit card company.
Online shopping offers may conveniences. However, shop with companies you know, or which have provided good service to people you know.  Look for a written description of the company's refund and exchange policy. When shopping online, make sure the Web site is secure before entering your personal or financial information.  Secure Web sites begin with https:// rather than just http://.
Contact the Department of Consumer Protection if you are experiencing a problem with a purchase at (914)995-2155, by e-mail at Conpro@westchestergov.com or via the Web at www.westchestergov.com